Anita Pearce. Your dog grooming expert.
I have always had a passion for animals and dog grooming. I always wanted to be a Veterinarian when I was a young girl. When I was in year 10 we could choose a place do work experience for a whole week! You can guess where I chose, a Vet clinic! I remember that first day so well, I was so excited. I walked into the clinic feeling like "this is me".
They were so busy, people everywhere, so they set me up out the back with this cute cat and said "keep this cat company he's lovely give me a pat and we will be with you shortly". So here I was with this gorgeous cat who was smooching up to me, purring and I felt like we really bonded. I was in awe of the entire clinic, the smells, the rooms, the instruments…… all of it fascinated me. After spending half hour smooching this cat the vet and nurse could finally come and talk to me about my up and coming week with them. 
Whilst we were talking they were preparing some injection and the table. They then asked me to grab my new cat friend from the cage and put him on the table where they were preparing some items.  This next part I will never forget….. my new found friend was there to be put to sleep. I remember that lump instantly coming up in my throat, in fact I have tears in my eyes as I type this now taking me back to that moment. This new friend of mine, didn't look sick, he didn't seem old, he was purring and happy….. all these things were racing through my head….I tried my best not to cry, but the damn wall broke…. I could not hold back those tears anymore, they flowed and flowed freely in front of these people I had met just 30 mins ago. I could not believe my first 30 minutes of joy with this beautiful tabby cat was about to turn into dread right there in front of me. Thankfully they understood and talked me through it. I said good bye to this sweet little guy and watch my new friend peacefully drift off to sleep never to wake again. Whilst I was totally devastated I knew from that moment on, this was my calling, I needed to help animals, even if it was to spend the last minutes of their life with them, talking to them, calming them, making them feel like they are ok. I went home that night and cried and cried. But I had to prepare myself for what working in a vet clinic entailed. The good and the bad.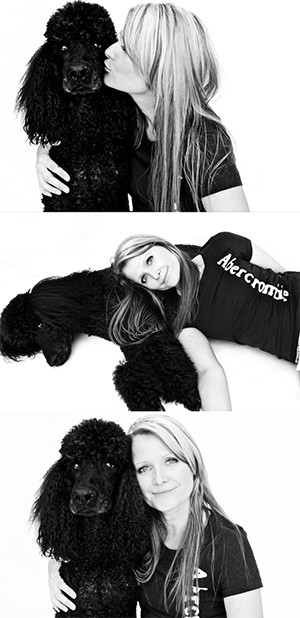 After I left school I got myself a job (on the high recommendation from my work experience clinic) at another vet clinic. For the next 7 years I would learn so much. I went from cleaning cages to running the entire vet clinic. I loved it, I loved my job every single day. It was the most exciting time in my life going to work each day being around all those animals! It was my passion. My favourite part was surgery.
Whilst I was vet Nursing the head vet wanted me to open up the grooming side of the clinic. So thats when I learnt how to clip dogs! Every dog was so different each needing a different style whether it be a breed design requirement or an owners request…. it was hard! But I was persistent and wanted to be good at it…. and (thankfully) I persisted and became good! At that time I had the most magnificent  white standard poodle whose name was "Domonique". He and I were so close, he and I had the most special bond out everyone in our family, he and I were it. When my mother bought Domonique for me as a pup I was in boarding school. I wasn't allowed home too often but when I did Mum would bring him in the car to pick me up! Each time I ran to him first!! I remember he would sleep with his head on my lap in the car all the way home. My family would say that when I would leave to go back to school Domonique would be so depressed and would sit staring at my bedroom waiting for me to come out. We were two peas in a pod! 
Domonique was my clipping canvas! And what an amazing canvas to start on! My Domonique has since long past, which absolutely broke my heart. It took me  years to be able to even talk about him after his passing, the mear mention of his name brought that familiar lump to my throat and bring sadness over missing him. I still have a clipping of his hair and think of him so fondly… its been so many years now … 17 to be exact since I lost him. I have a huge framed photograph of him with a bronze plaque with his name on it.  
I am originally from the Gold Coast I moved to Melbourne in 2000. I vet nursed for my first year here in Melbourne then moved into another position, still in the Veterinary Industry but more on the veterinary drug side. My first 6months into this new position I really started to miss the animals. This is when I met my Baxter boy. Born November 2000 We met 2001 when he was just 9 weeks old. He chose me that day and boy am I glad he did. Baxter is a divine Black Standard Poodle. As I type this he laying at my feet. He has been the most wonderful dog from the day we met. We would go everywhere together….. flying to QLD a few times a year with me… everybody loves Baxter… he is one of those special dogs that greets everyone – dog or person he makes you feel special. He & my nephews love each other! When I talk to my nephews on the phone, their first question every time "Hows Baxter?" "where's Baxter?" 
A few years into working within the Veterinary Drug Industry and having Bax by my side I missed the real hands on stuff I would do at the clinic with the animals….. this is when Anita's Doggy Day Spa was born! I purchased my hydrobath, table and other clipping tools I didn't already have. I created loads of flyers and had an "opening special"  $10 Hydrobath day and it was a hit! I had so many people flow through, mostly people with short haired dogs that didn't require clipping but that was ok, it helps word of mouth and I met a lot of great people. I started on Saturdays (as I was still working full time) Saturdays became so busy I had to open up Sundays too. I was exhausted working 7 days a week but I had what I wanted, the interaction with Dogs again! And even better I had the great side of what I had missed so much from the Vet clinics, I saw the happy healthy dogs as apposed to the sad times at the clinic. It was a win win! That was more than 12 years ago now!
Here in 2015 my new passion for my Dog Day Spa is to make it full time work. I am over working for other people and the stress that goes along with that and making a wonderful week filled with dogs! How wonderful being able to work with dogs day in day out!? I am excited about this thought and the future and what it will bring.  All the dogs and owners that I am going to meet in the coming years. My current customers having been with me for so long that they have become friends of mine which is wonderful! They trust me with their dogs and I love that. I work from home so I have no cages, but do have a large playpen if I need it with the change over when some are finished and new ones arrive. I am extremely security conscience so if some have to sit in a playpen for 10 minutes to save any escapes then I will do it and do it for the dogs in my care. 
When I book in my grooms, its by appointment. This means I book your dog/dogs in for a one on one session. Its me and your dog. (or 'dogs' for multiple households) my time management is usually spot on so the flow of the day suits everyone. When my customers drop off their dogs I ask them all the vital questions with regards to what they would like me to do on the day. Some leave it completely up to me but some have preferences, short summer clip, winter clip, style, fancy or basic, short face, long face etc etc. With so many of what they call "designer breeds" there are two sometimes 3 different breeds mixed in a dog. Some like to stick with the one clipping style or one choose one of the breed clip styles in their dogs, for example – a Schnoodle. (Poodle x Schauzer) Some prefer the face of a poodle – short shaven where food and water don't get in there and make it smelly, then there are others that like the schnauzer moustache. Some choose poodle shaven feet or schauzer fluffy feet. Whilst other do not want their dogs looking anything like any of the breeds in their dog. Its all down to personal preference! Everyones home life is different – some dogs are inside dogs all day so are able to cope with flowing long hair, some sleep in bed with you so need to be clean, whilst others that are outside mostly require short hair to try and keep clean and free from knots. I cater for all your needs. I say to people all the time that there is no use me clipping your dog the way I want to if you would like me to clip them a certain way. Gone are the days when you would hand your dog over to the groomer and they would clip your dog the way they wanted! Although I am very happy to take on that responsibility if you are not sure. 
Each dog that comes through my doors has its own card. I fill out every single little thing I do that day, the size of the blade, the area, any issues, any suggestions and of course age of your dog, name, contact details, calm, anxious, hates nails being cut, etc etc, this helps me each visit. 
This makes it easy for your next visit! 
I can ask you if you would like me to replicate the previous clip or see what clip I gave last winter or summer as they will always be different. From there we can make any changes moving forward. "this time I would like the body shorter" "this time I would like the face longer" etc etc. 

It helps remind me, for an example, if your dog hates his or her front feet being touched I can be reminded to be cautious that this upsets your dog. 
Once I get started I usually do as much of the clipping off as possible with the clippers. Then a warm hydrobath! Hydrobaths are amazing they have great strong pressure in the water that not only removes the dirt from the coat and skin but gives your dog a lovely massage! I always shampoo twice to get ALL the dirt out. If your dog has skin condition then I want to know all about it. Usually I can see it with my own eyes, but I want and need to know what you use and causes etc. In these cases I will use a medicated shampoo to help the condition and leave it on like a treatment to penetrate, then rinse off. I always finish with conditioner. This makes the coat soft and manageable for me and for you. For dogs that drop hair the hydrobath pressure along with the conditioner help remove all the undercoat and excess hair. Once the hydrobath is finished, then we are towel dried. Most dogs love this part so I use it as a fun play time! Then we head back onto the grooming table where the big dryer comes out! Its warm and it drys fast! Whilst I'm drying I am combing of brushing. This helps any knots I missed before the bath, remove any further undercoat hair and helps me fluff the coat up! 
Once dry I start again. I run the same clipper blades over again to make sure every hair is perfectly cut in line with the other. Then the scissoring begins! Shaping and styling with the scissors! This part is probably the part that takes the longest. I am a perfectionist so the scissoring can go on & on! Then its nail clipping time, I save the nails for last as they are so sharp when I cut them off square, there are two sharp edges then! Then a spray of perfume, boys get a necktie or bandana, girls get a flower! I love these little touches – and my customers do too! Its a lovely finish to their day spa experience.
Small and medium dogs usually take me 2-2 1/2 hours from start to finish
Large are 3-3 1/2 hours from start to finish. 
Then the best part of the finale….. TREATS!! I always like to finish off the pampering session with treats. Its nice & rewarding way to finish and they all love it! Not all dogs love a bath, I know my own dog doesn't enjoy a bath, he hides! ha So to finish off with a reward makes the session just that more enjoyable and they forget that they had to sit in a bath and have all that doggy smell scrubbed off them! Its very rewarding seeing them take their treats and know they are ready to go home! I then call the owners to say he or she is ready to go home!
I love what I do and most of all I get to work with dogs every day, how wonderful & lucky am I!? 
I hope that this has given you some insight to what I do and what I love!