This would have to be one of the most difficult things I have had to write. Why? Because this recently happened to me and what I am going through personally.
My boy, Baxter who made it to the wonderful age of 14 years & 5 months passed away on the 3rd of March 2016. Today is the 3rd of May, so it marks 2 months since I last kissed his beautiful face and told him how special and wonderful he is and how loved he is. I am going to discuss the grief of losing a pet.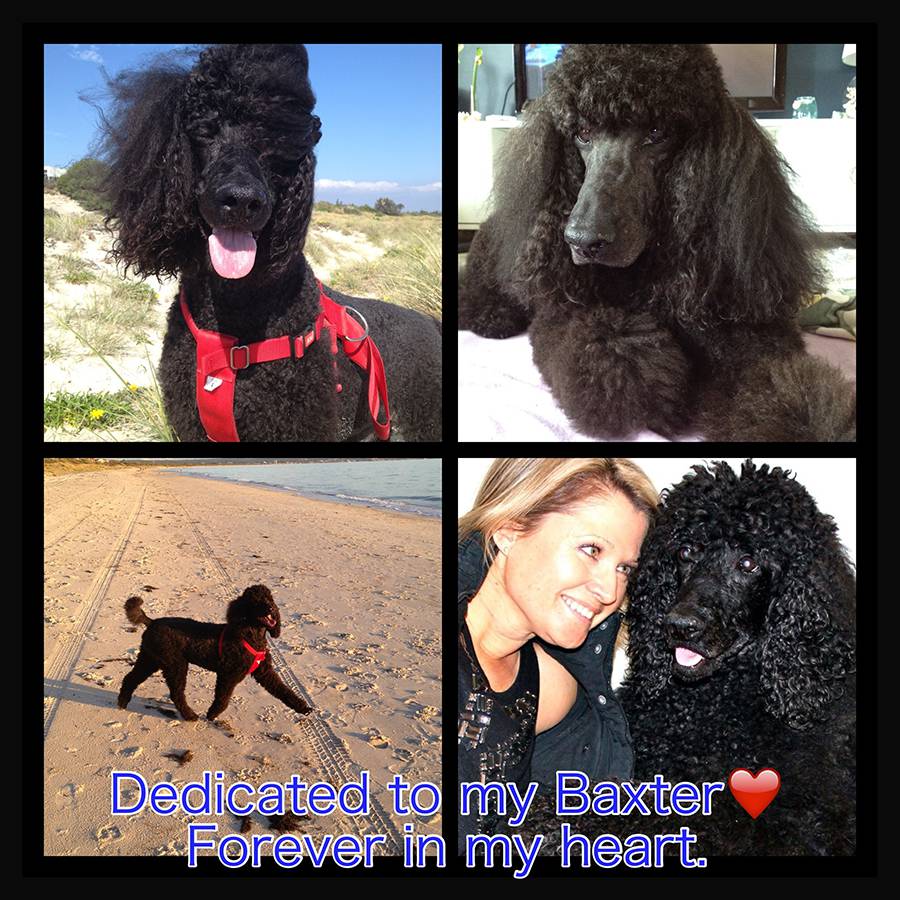 For me it has been a bitter sweet thing. My grief didn't come suddenly I have been preparing. The last few months of Baxter's life I was his legs. I carried him a lot, and had too, as they were at the beginning of failing him. He was a big dog so carrying a dog that was almost 3/4 your weight was hard, but I wouldn't have had it any other way. He had good and bad days which were difficult to be clear on WHEN to make what essentially would be "the right decision" after a few bad days came good days, which I made into "hope". In the end, my worst nightmare came. I had to put my beloved boy, my best friend, my baby, my companion for the last 14 years down and say goodbye. I am not even sure how I functioned that day, infact I have my doubts that I was. I was auto pilot until I reached my last moments with Baxter.
In my last moments with him I told him how much I loved him. How much he meant to me. How thankful I was to have such an amazing dog in my life who loved me so unconditionally. I told him everything I ever wanted him to know (not that I didn't tell him every single day of his life) but in those last moments that I was so thankful to have I wanted him to leave me knowing just how loved he was. His send off was so peaceful, he knew what was happening, he was calm, he was alert, and he gently went to sleep. I sat with him for about an hour after as I found it difficult to leave. I had to let all this sink in. It did and I was able to say my last good bye and head home.
Then to start the grieving process. Its always different for everyone. Some people grieve for just days, some months, others years. For me, mine will be years. Its not gauged on how much you loved them, but a personal response. I have had so many different responses from my dog grooming customers who heard my news about Baxter. Some have told me they went straight out and got themselves another dog, others waited for years, some said never again, but eventually got another pet. For me, I am at that "never again" point. But who knows what the future will hold.
Losing a pet for some people can be more difficult than losing a fellow human. Some days I wonder if I have really dealt with my loss of Baxter, other days I feel such sorrow that he is not here with me and wish I had him back even just for one day to tell him I love him again. Some days I am relieved for both him and I as he knew how much the last months stressed me. I am a worrier and I worried constantly about him, so much that I could hardly leave the house for too long in case he needed my help. I installed cameras in the house so when I did have to go out I could check in on him.
Its only been 2 months but it feels so much longer, I am not sure why but it just does. Each day is a different emotion. But one thing I can recommend is, don't hold in your hurt. If you feel like you are going to cry, CRY! Don't keep it bottled in. Let it out.
A few days after I lost Bax I went to the shop and printed out all my favourite photos of him and have placed them all in frames ALL AROUND THE HOUSE, I mean everywhere! As I sit here in my lounge room I have just counted 26 photos I can see from where I am sitting. I look at them every day and some days they make me smile, other days cry. I still have his bed beside mine. I guess they are like a memorial. This is important. It helps the heart, it really does. Its like a part of them is there. Spiritually I know Bax is still around me.
I highly recommend having the support of friends and family around you. I couldn't have gotten through it with out the support I received. I had a dear friend stay with me for a few days. Which was amazingly helpful. I didn't realise how important that would be, but if you live alone, I highly recommend you're not alone for those first few days. I had friends dropping in to check in on me….. all such wonderful and needed support. I was so grateful. You don't have to sit around talking about it all again. Its just having people around who understand what you are going through and showing you support and keeping you busy.
Emotions
Some other emotions that can be felt after such a loss is Guilt.
Guilty you hung on for too long. But remember the flip side of that is guilt that you did it too early, so its not a battle that you will ever win. I know I did the right thing at the right time. I HAD to get myself to that point though to feel secure that I had made the right decision for him and I. So let that guilt go!
Another emotion that can be felt is Denial.
I felt denial, but in a strange way, I felt it in a way of shock. I felt in shock that I went through those last few days, shock that I no longer have him and shock that I did it. For me it was a painful pill to swallow that it happened, the end actually happened. At times it would even suck air straight out of my lungs that I gasped for air. It was like a punch in the chest for me. Thankfully that has become less & less.
Anger!
Some people can feel angry, whilst I didn't feel a lot of anger, some can feel a hell of a lot. Anger over an illness your pet may have had, anger that you suddenly lost a pet out of unexpected circumstances, all which is justified. A friend of mine lost her dog a few months before I lost Bax very suddenly. One minute her dog Cherry was fine, walking in the park together, the next she was gone. My friend was completely devastated and rightly angry. She wailed and wailed. Very painful loss. So let it all out! Scream into that pillow, pound the floor, cry and cry some more and let that Anger out!
Then there is depression. Wow this one is a tough one. Although a natural response to grief, a difficult one to deal with. Some people don't realise they are in the realms of depression, and become powerless to cope with life. I know for me I was depressed. I was barely functioning some days I can still be that way. My memory was failing me on the simplest things like speaking! I could hardly get sentences out. I couldn't think of words. Words I use every day. Depression can rob you of simple functions. If you don't seek help depression will swallow you whole. So remember reach out to friends and family or better yet surround yourself with friends like I had who reach out to you and check in on you daily, sometimes every few hours. Don't be alone. Be busy. Surround yourself with love & support. Your pet would want that for you.
Whilst I only had Baxter, some people may have other pets at home. Pets grieve too. So I do suggest you include your other pets in whatever way you feel comfortable when losing another. If there is a chance your other pets can say goodbye too, give them that. If not then make sure you support your other pets emotionally with loads of TLC. Keep the routine up as it will not only help them but you also.
Remember to let the pain out, don't deny yourself your feelings, don't bottle them up. Its a natural response to feel sad and hurt you wouldn't be human otherwise! Our pets are a BIG part of our life and they can leave a large hole when they leave us. So devastation can set in over the loss of such a beautiful relationship. Roll with it.
So hang in there on that roller coaster of emotions. Know it gets easier. And if that time comes when you are really ready for a new pet remember, each pet has its own special unique personality. No two pets will ever be the same. And no one could ever replace what you lost. But do love that new pet just as you loved your past one, don't deny the new one of that special love!
If your pet is still with you, then give him or her a hug. Cherish these moments!
Rest in Peace my darling Baxter, I love you, I miss you, until we meet again.